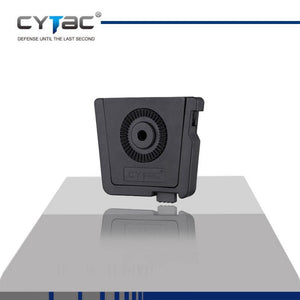 Quick Release Adaptor
Compatible With R-Defender Holster, Baton Holder, Flashlight Holder And Other Cytac Gears With Tooth Gear.
Cytac Optional Adapter
PRODUCT INFORMATION
Brand: CYTAC
Product Name: Quick Release Adapter
Material: Military Grade Polymer
Available Range: Law Enforcement Officer, Shooting Training, Daily Carry, Etc.
FEATURES
Sizes:
CY-PQ04- COMPATIBLE WITH CYTAC F-SERIES, T-THUMBSMART SERIES
CY-QR- COMPATIBLE WITH CYTAC R-SERIES ON DROP LEG PLATFORM
CY-QR2- 180 DEGREES ROTATION- COMPATIBLE WITH ALL CYTAC GEAR HOLSTERS, R-DEFENDER GEN 3 SERIES, DOUBLE MAGAZINE POUCH, FLASHLIGHT HOLDER, HANDCUFF POUCH WITH TOOTH GEAR.
Quick Shifting
Set up in seconds before each mission. Action as fast as you can for rescue, on-duty, battlefield, counter-terrorism, etc.
Fast Access
User could find a preferred carrying angle for fast drawing. Angle available in 90° leftwards or rightward.
Easy Adjustment
Only to press the button, user could slide out for quick detaching and slide in for reattaching to other mounting attachment.
SPECIFICATIONS
Color: Black